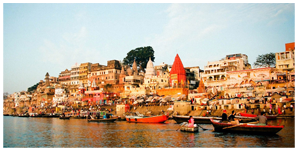 Benaras (also known as Varanasi or Kashi) is one of the oldest living cities in the world as old as Jerusalem , Athens and Peking . This holy city on bank of river Ganga is an important center of pilgrimage, education and culture. The rays of the early morning Sun spread across the river and strike the high-banked face of this city, Kashi – the luminous, the city of light.

This city has attracted pilgrims and seekers from all over India . Sages such as the Buddha, Mahavira, and Sankara have come here to spread knowledge. Young persons have come to gain knowledge with the city's great scholars (Pandits).

Geography and Climate:
Varanasi is situated in south –eastern Uttar Pradesh,
About 750 kms- southeast of Delhi
600 kms- southeast of Agra
675 kms- northwest of Kolkatta
1475 kms- northeast of Mumbai
Altitude and Latitude: 82 56'E – 83 03'E
25 14'N – 25 23.5'N
Average Height from Sea level: 77m
Average Rain Fall: 1065 mm/year
Average Humidity: In cold seasons (July –February): 80%
In hot seasons (March –June): 50%
In Auguest (highest): 88%
In May (lowest): <50%

PLACES OF INTEREST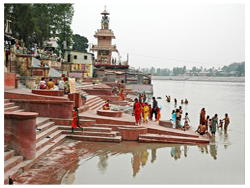 Ganga Ghats:The Ghats(stone steps into the river) on the east bank of the river Ganga are the goal of most pilgrims to this holy city. There are over 70 Ghats from Assi Ghat in south to Adikeshava Ghat in north for a distance of nearly 5 Kms. Sunrise and Sunset are the best time to view the ghats from boat.
Distance from the center: ½ Km
By walking it takes 5 min.




---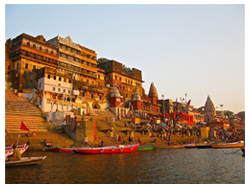 Kashi Viswanath Temple:Of all Varanasi's shrines, the most celebrated is the temple of Lord Viswanath. The gleaming gold spires give it the name, Golden temple. The original temple, no trace of which exists any longer, is said to have been constructed more than 2000 years ago. After razed to the ground two times by the moguls, lastly it was reconstructed in 18th century, situated along with a mosque by its side.
Distance from the center: 3 Kms
By cycle rickshaw it takes -15 min.
By auto rickshaw it takes –10 min.


---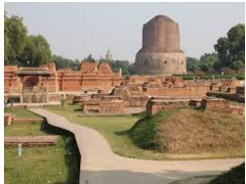 Sarnath: Ancient Buddhist scriptures refer to Sarnath as Rishipatna (the town of sages) and Mrigdaya (Deer park). It is one of the four holiest places of Buddhist pilgrimage, for it was here that the Buddha first preached his doctrine to the world. There is also an outstanding archaeological museum with sculptures sand stone bas-reliefs pottery, terra-quota figurines and carved bricks images of Buddha etc.
Distance from the center: 13 Kms
By taxi it takes - 45 min. By taxi it takes - 45 min



---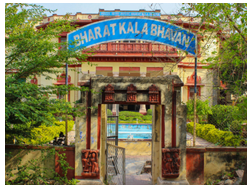 Bharat Kala Bhawan: A museum of Indian Arts and archaeology, which was established in the year 1920 in Banaras Hindu University campus. Besides possessing an excellent collection of sculpture, archaeological exhibits, textiles and other rare specimens of art and craft. The museum has also a gallery of Indian pictorial art with a representative collection of paintings from the 15th to 19th century.
Distance from the center: 2 kms;
By cycle rickshaw it takes -15 min;
By Taxi /auto rickshaw it takes –10 min.
---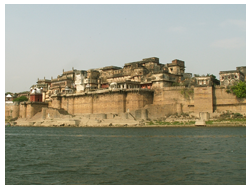 Ramnagar Fort: The beautiful 17th century fort on the bank of river Ganga, was once the home of the king of Kashi. Now it is a museum that offers a trip through the fairytale world of kings and queens. Brocade palanquins, elephant howdahs (saddles) made of silver, weapons, a replica of royal bed, furniture, costumes and royal trapping are among the exhibits.
Distance from the center: 10 Kms
By Taxi it takes -30 min.